Earthquake First Aid Kit Items
By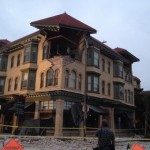 The recent earthquake in the Napa area of California reminds us that a significant earthquake is always a present danger. One that we should be taken seriously and we should take proactive actions to prepare and gather supplies ahead of time.
If the Loma Prieta earthquake in 1989 taught us anything, is that medical and municipal service will not be readily available and we may need to fend for ourselves for several days.
Creating a first aid kit should be one of your first and on-going priorities. Food and water may be in short supply immediately after a major event. You should plan to have at least 3 days of supplies on-hand. Here are some suggestions on items you should be planning for:
Food
Can foods work best during an emergency. Most don't need to be cooked and can be eaten right out of the can. Make sure to store a can opener with you emergency food supplies.
Eat frozen foods or items from your refrigerator first. Without power these foods will not last long.
Water
Plan on at least 1 gallon of water per person per day. Your home offers several locations for drinkable water.
Water drained from the water heater. (45 gallons).
Water from the tank of the toilet (not the bowl).
Melted ice cubes.
Canned fruit and vegetable juices.
Water from swimming pools and spas can be used for personal hygiene, cleaning, and related uses, but not for drinking.
Drugs/Medications
Hydrogen peroxide to wash and disinfect wounds
Antibiotic ointment
Aspirin and non-aspirin tablets
Prescriptions and any long-term medications (keep these current)
Diarrhea medicine
Eye drops
Dressings
Bandage strips Cotton-tipped swabs
Ace bandages Adhesive tape rolls
Dressings & Roller gauze Sanitary napkins
Other First Aid Supplies
 Scissors
Tweezers
Bar soap
Tissues
Sunscreen
Small plastic bags
Iced or cold packs
For additional information, please feel free to download our free "Earthquake Safety Ebook." http:///www.cprescue.com/earthquake-safety-tips/