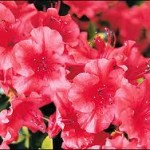 It is time for spring plantings.  Did you know that many of the plants in your yard may be poisonous?  As you begin to select varieties of flowers and plants for your landscape, you may want to consider if the plant or flower you selected is toxic.  Tiger lilies are among the worst poisonous plants for cats and jasmine for dogs, while castor bean is the source for the deadly toxin ricin and a poor choice to grow especially if you have children.
Always check with your local nursery before purchasing any type of plant or flower.  Here is a list of just a few common plants:
*  Wisteria Vines  –  Not to be confused with the Desperate Housewives that live on Wisteria Lane.  If ingested in sufficient quantities (which, for a young child, would be a relatively small amount), the seeds and pods of wisterias can cause nausea, vomiting, stomach pain and diarrhea.
*  Winter-berry Shrubs – Ingesting the bright red berries can cause vomiting, stomach pain and diarrhea.
*  Azaleas and Rhododendron Bushes – These are the most popular landscape plants, but ingesting their leaves or flowers can cause vomiting, stomach pain, diarrhea — or worse.
*  Juniper Shrubs – Using this ground cover helps control erosion and weeds, but ingesting too many of the berry like cones can lead to kidney damage.
*  Bulb Plants – Hyacinths and daffodils bring much delight in spring with their blooms, but these poisonous plants bring nausea, vomiting, and in some cases, even death.
*  Winter Jasmine Vines – These vines are poisonous to humans and dogs alike.
So this spring, as you decide the colors of your garden and landscapes, you may want to consider the potential consequences, especially if you have animals and young children.