Toothbrush and Illness
By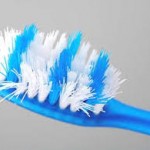 Researchers have estimated that up to 1.2 million bacteria live on a single toothbrush. It's a fact that there are more bacteria in the mouth than anywhere else in your body, and some of them get on your toothbrush. These germs can include the flu virus, staph bacteria, yeast fungus, E. coli and the strep virus.
Bathrooms are the perfect place for bacteria to grow — they are moist and steamy. In addition, it's not helpful that most toothbrushes sit next to the toilet. Just like you wouldn't store your dining plates and glasses next to your toilet, you shouldn't do the same with your toothbrush. Every time you flush, an invisible plume of vapor is released from your toilet and can hang in the air for several minutes. These contaminated water vapors easily travel and can end up on surfaces that are close by, such as your toothbrush.
So is it possible to become sick by using a germy toothbrush? Yes, however with the help of our immune system and everyday good hygiene habits, it is unlikely that your toothbrush will make you sick. But, many things can affect our immune system, like stress, lack of sleep and poor eating habits. So there's a chance for these bacteria can break through and impair your health.
To stay in good health, put these helpful tips into practice:
Wash your hands before and after brushing.
Change your toothbrush every three months or whenever you have the flu or a cold. You should also change when the bristles become worn.
Alternate between two brushes to make sure you use a completely dry brush.
Store your brush away from the toilet, and close the lid before flushing.
Do not share brushes and avoid storing toothbrushes together.
Rinse your toothbrush thoroughly after every brush with hot water. For a more effective rinse, submerge your brush in hydrogen peroxide or alcohol-based
mouthwash.
Let your brush air-dry before putting a cap on the head or storing it away.
Use a different tube of toothpaste if you or someone else in your family is sick.